Offer accommodation units
Sorry, but for chosen date range and number of persons we cannot offer accommodation for this object.
Contents
Accommodate children
Object has heating
Free WiFi
Object has a swimming pool
Parking available
Pets allowed
Use of spa and wellness center
Nearby
Shopping and Foods
Restaurant

Lazarev odmor (10m)
Berg (20m)
Kraljevi cardaci (10m)

Supermarket
Store
Reviews
6.5 / 10
Service
7.0/10
Cleanliness
7.0/10
Sleep quality
6.0/10
Location
6.0/10
Rooms
5.0/10
Kindness of staff
8.0/10
Zaljubljenik prirode, Saturday, 13 August 2022, Studio apartment
Smeštaj je dobar ali je bučno zbog okolnih gradilišta i glavnog puta. U blizini imaju kraće staze za šetnju. Ako želite u centar Kopaonika morate platiti dnevni ulaz od 300 rsd. Postoji i za 7 dana koje iznosi 800 rsd (to smo sami slučajno pitali inače neće da vam predlože)
6.5 / 10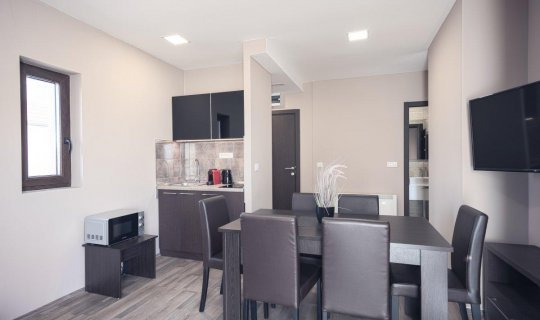 Belvedere Hills Kopaonik, Raška
Belvedere Hills je nov objekat na Kopaoniku, smešten u Vikend naselju, mirnom delu Kopaonika, na 1450 metara nadmorske visine. Apartmane odlikuje visoka funkcionalnost i moderan dizajn. Apartmani su...
Need help?
We will be more than happy to assist you! Our team will answer your calls every working day from 9 am to 5 pm and Saturday 9 am to 2 pm.
Nearby objects
Why book with us?
Several thousands of accommodation objects